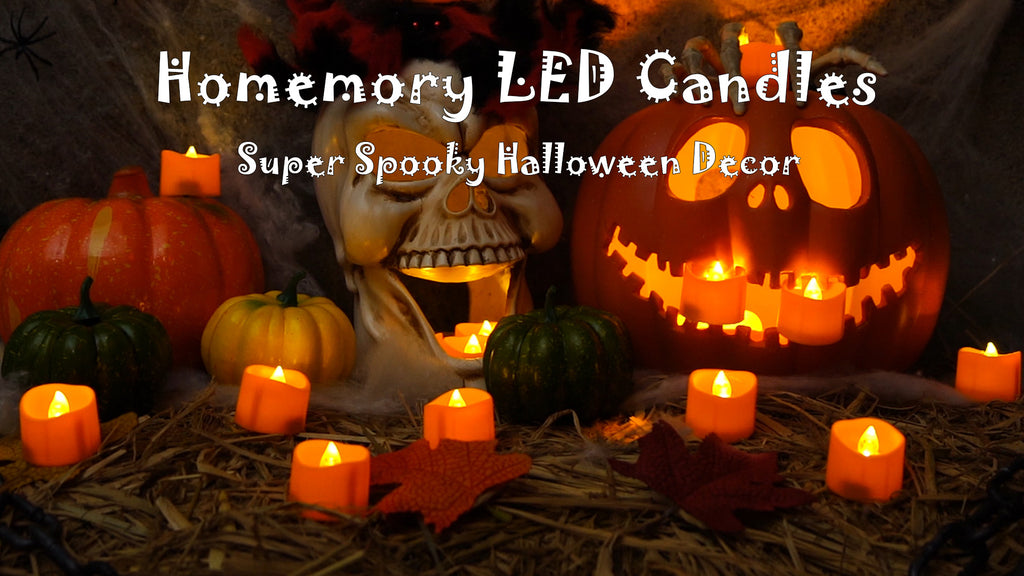 The annual Halloween and autumn decorations began. Add a unique and gloomy atmosphere to the autumn atmosphere. This is an annual fall tradition that most of us love every year; our new Halloween decorations provide you with everything you need in this fall dress. From Halloween led candle lights to pumpkin props for Halloween parties! Don't know what Halloween decorations to prepare? Worried about the danger of fire caused by the troublesome people running around accidentally hitting the candle? Check out our Halloween party ideas! Using LEDs would be a super safe choice. Have a safe and spooky Halloween.
 Decorate Your Halloween Party with LED Tea Lights
With properly placed led candles and proper lighting, your home can become a suitable place for Halloween parties.
Dinner Table Setting
To host a perfect Halloween party, don't forget to prepare a sumptuous dinner to make your table also have a Halloween atmosphere. Our led tea lights are very suitable for your decoration. Spread Homemory Orange LED Tea Light Candles around your dining table and pumpkins, glow with a soft flicker warm light, light up your dining table, and look great even when it is not bright! Create a colorful and interesting Halloween display effect. This will surely surprise your friends or family!
Safe Pumpkin Entrance
Use Halloween lights (such as LED Tea Lights and Halloween Pumpkin Luminary Bags) to light up your front door and create a safe and spooky entrance, perfect for welcoming your guests and welcoming trick-or-treating people. Homemory LED Tea Lights with Timer, 6 hrs on and 18 hrs off, every 24 hrs a cycle automatic, your candle can increase the creepy feeling by automatically lighting and closing, just like using magic.
PS: You can also use our Halloween Pumpkin Luminary Bags to create a Halloween atmosphere. Simply place the candles inside each luminary bag. These luminary bags can create a fantastic light pathway in dark areas with face design. Outline a sidewalk, a driveway, a porch. The effect is beyond magical!