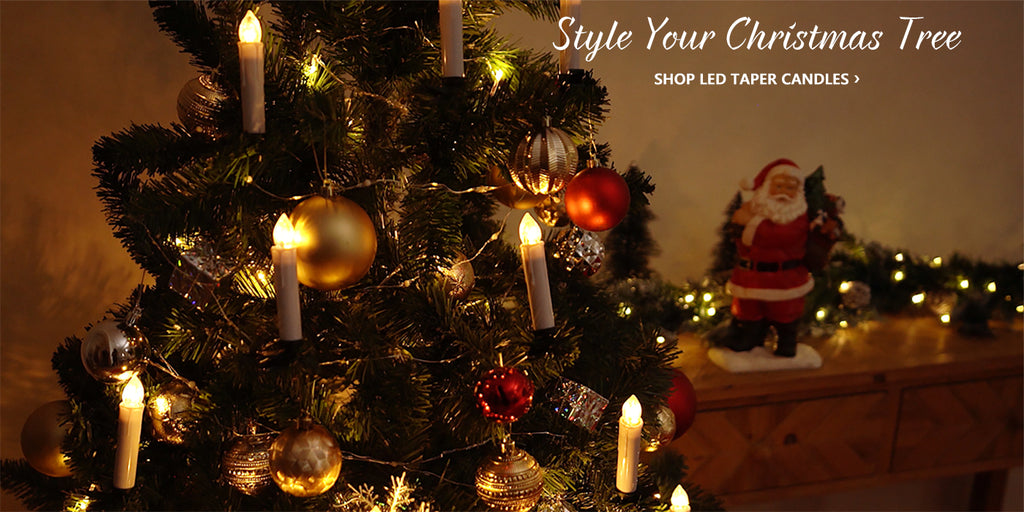 Christmas is coming, it's time to create a warm and comfortable space to create your Christmas memories. At this time of year, the focus of any family is the Christmas tree. Different decoration methods and color combinations can completely change the feel of your home. This is our ultimate guide to decorating Christmas trees, our led taper candles and led fairy lights will bring magical Christmas glow to your home.
How do you decorate Christmas tree to look fuller?
To get a fuller look, you can use various fillers and loads of warm lights to fill the gaps between the branches. Such as silk flowers, leaf bundles, assortment of star-shaped ornaments and pinecones or plastic gold Christmas ornaments. Of course, adequate lighting is also indispensable. Please choose Flameless Taper Christmas Candles Light with Clips/Suction Cups, because they can provide denser coverage on the tree. The candle holder is a good complement to the traditional tree. Each candle is powered by a battery individually and is equipped with a convenient clip that can be fixed on the tree.
PS: You can also decorate the Glass Wall and Window with Flameless Taper Christmas Candles with Clips/Suction Cups.
 What is the Christmas color for 2021?
Red, green, gold, and silver are favorite choices for Christmas decorations, but various shades can create a beautifully decorated home for the holidays. So we also want to recommend blue, cool white and red holiday decorations to you.
Cool White LED Fairy Lights- Christmas in December is also the season of snow. Choose lights with cool colors to create a different winter scene in your home. Create the perfect Christmas atmosphere for your home and add an extra festive atmosphere. Create your own white Christmas decoration.
Blue LED Fairy Lights- Strong soft blue tone has also begun to be loved by people this year. It will continue into the next few years. Choosing our Blue Battery Operated String Lights with Remote, matching bright blue with gold, white, or champagne tones, I think it is a very good choice. Bright colors and unique decorations add a sense of fun and liveliness, creating a classic and familiar atmosphere for your home.


Red LED Fairy Lights- As the classic color of Christmas, the classic red and green Christmas tree is the choice of many people. The perfect fusion of the joyous atmosphere of Christmas makes this Christmas fun and festive!