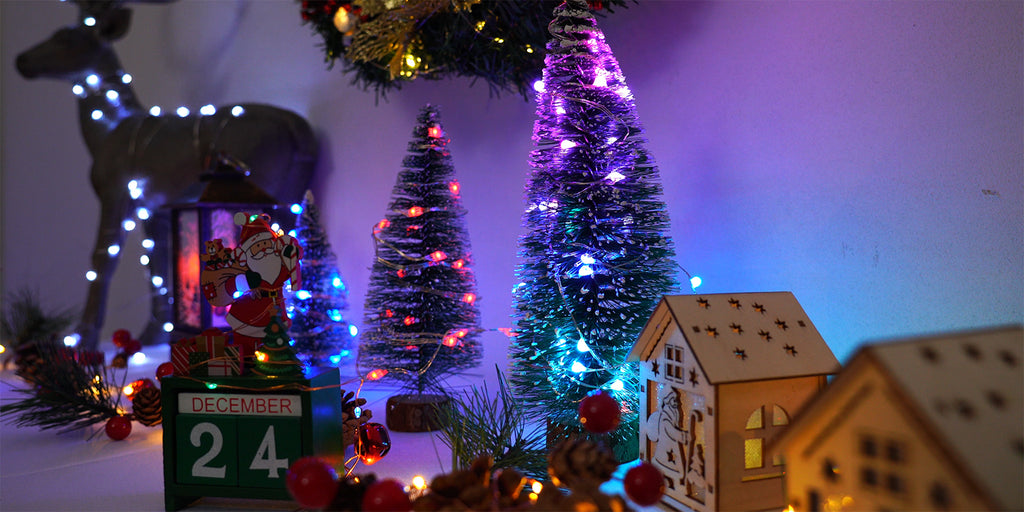 Christmas is coming, it's time to start thinking about how to create a home full of Christmas atmosphere this winter. Impress the guests with your exquisite decorations and displays. We have some great ideas, let's take a look at how to use the Christmas fairy lights to show the "perfect look" on your Christmas tree, mantelpiece or staircase.
Your Christmas Tree!
During the holiday season, the Christmas tree is always the focal point of any family! Whether you choose to display your tree in the living room, staircase or corridor, let's add some highlights to it and make it very special and unforgettable this year.
Our LED Fairy Lights series are perfect for adding warm tones and sparkles to your Christmas tree. Choose warm white fairy lights, these sparkling fairy lights are powered by a transparent battery box, easy to hide in your design. They are delicate and bright! Make the Christmas tree unique. The warm white LED perfectly sets the scene and adds a warm atmosphere to your home. Whether you choose a warm light or a multi-color LED fairy light, we have all the styles you need! Fairy lights are a great addition to any Christmas tree, and come in many styles and lengths.
Christmas Mantelpiece
 Use colorful flowers or plants to enhance your mantel, warm white or colorful fairy lights are also suitable for decorating your fireplace. Create a warm Christmas atmosphere by placing Christmas decorations and fairy lights on the mantelpiece. Decorate the mantelpiece with garlands and stockings to complement the colors of the Christmas tree decorations.