Have you ever dreamed of what your wedding would be like? Day or night? On the beach or in the forest? Outdoors or indoors?
But I think the most important thing about a wedding is to have a warm and romantic atmosphere. Here we will show you how to decorate your wedding? In your wedding such a big day for you to leave wonderful and romantic memories. Of course, it is also a reference for how to decorate your home.
Our flameless pillar candles can meet different requirement, wedding, parties, seasonal & festival celebration and home decoration. They have normal one (on/off function), with timer (2H, 4H, 6H, 8H or Instant on/6H Timer) and remote function. And there's a unique moving wick design, make the candles more realistic. They are great indoors or outdoors.
Wedding Decoration Inspiration
When you prepare a burning candle for your wedding, are you worried about the danger caused by open fire? You also worry that the limited candle burning time will not last until the end of the wedding. At this time, I think our battery Pillar Candle will be a good choice for you.
These flickering candles are made of real wax which gives them the appearance of regular candles. But they are safer than ordinary candles, because they are led lights that don't burn, but have the same effect as ordinary candles. An amber yellow glow is given out from these led pillar candles, which is perfect for the creation of atmosphere for Wedding and Home Decor. Just set them into your favorite wall sconces, lanterns, chandelier pumpkin, mantle over the fireplace or candle holder or mix with other decorations and table settings. They can be also used as a mood light in bathroom or on balcony. You even can put them on the floor and outline the road to your wedding. The effect is beyond magical!
What's more, our candles also have remote control and timing functions, we have 10-key remote control allows you to adjust the brightness and flicker. 4 modes of timer setting for saving battery life. For example, set 2H at 20:00, it will automatically turn off at 22:00. And then automatically turn on at 20:00 next day, automatically turn off at 22:00, cycling every 24 hours. That means you no longer have to worry about forgetting to turn off the candles, and you no longer have to get up from the sofa or bed to turn off the candles.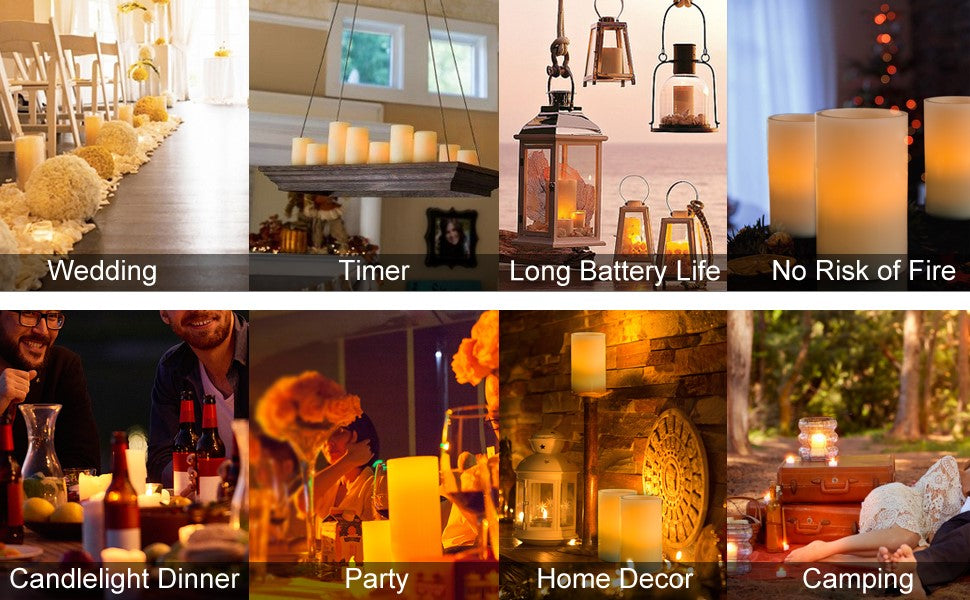 Note:
Indoor only: Don't leave it in or near high temperatures as this could cause to deform.

The candles lighting time depends on the capacity of the batteries.

If not using these candles for a long time, please switch them to the "OFF" position manually at the bottom to save battery life.

Three sizes are available: 3 "wide x 5" tall, 3 "wide x 7" tall, 3 "wide x 9" tall
Effect display
Plastic Material Series
The LED flameless candles are made of wax-like plastic. So it won't deform or melt like wax candles in high temperature environment. Ivory appearance and flickering amber yellow glow make these battery operated LED candles look more realistic. It can be used indoor or outdoor. Ideal decoration for your home, garden, swimming pool, party or BBQ even it's rainy day.
These flameless LED candles can create a warm and romantic atmosphere, relax and comfort you when you get home. It can be widely applied to home decorations, bars, hotel, birthday, Christmas, party, holidays, wedding or other occasions. Each LED pillar candles have 10-key remote control allows you to set timer on your LED pillar candles per 2H, 4H, 6H, or 8H.
Warm tips: Remember to turn the candles on at the bottom switch before you use the remote; If one or both the candles no longer turn on with the remote after a period of time. We suggest you change the candle's battery. Because the candle would be difficult to respond to the remote control if the battery voltage is not enough.
Our flickering Waterproof Candles combine the "moving wick" with waterproof feature. In order to take into account both practicality and beauty, the designer made waterproof treatment inside the candle while retaining the moving wick, simulating the situation of rainwater flowing from the top to the bottom, and achieving waterproofing. The candle uses a frosted plastic shell, which will be more transparent after turning on the light and will not melt at high temperatures. No dripping-hot wax, no smoke or worry about falling asleep without blowing out the candles. Special moving wick design, When you open it at the wedding, you will find that it perfectly displays the same effect as ordinary candle, real and romantic. Create a romantic and wonderful atmosphere for your wedding.
Unique remote control design that you can control these candles remotely when they are placed somewhere difficult to touch. Set a 2H/4H/6H/8H timers will save your trouble to turn them on/off because they will come back on automatically at the same time every day. Also, you can adjust the light modes(flicker/steady glow) and brightness level as you want. This real led candle will add wonderful atmosphere to your wedding. Of course, put it in your home or your garden, it will also have a good effect.
Application effect display
Homemory Large Waterproof Flameless Candles are suitable for outside use as they are weatherproof and won't melt, can withstand the rain and sunlight, also work great in cold environment. The three-way switch on the bottom allows you to turn the candle on / off or set a 6-hour timer (lights up for 6 hours and turns off automatically). Just combine the atmosphere of a traditional candle with modern convenience. The timer loops every 24 hours, manually turns off the candle, and it resets. Suitable for Parties, Festival decoration, Celebration or Weddings, the time you need to add atmosphere, these Ivory flameless candles may be your best choice. They are large and bright, glow with warm yellow light, long-lasting for your events both indoor and outdoor use.
Two size options: 10" (height)*4" (diameter),  8"  (height)*4" (diameter)