Are you ready to hold a party to meet your friends?  What will you prepare for your party?  We recommend our taper candle to you.  I think it will give you a different surprise and add a lot of color to your party.  Let's take a look at our guidebook for you.
Homemory LED Taper Lights have normal one (on/off function), or with timer and remote function. And the light color of our LED Candles are warm white (much like sunshine) and warm yellow (much like candle). Our LED taper candle lights can continue to light for a long time—more cost efficient compare to ordinary candles. Homemory flameless candles can meet different requirement, you can hang these battery operated taper candles with fishing wire on the ceiling (or chandelier) to create "floating candles" effect  for a themed party. These flameless flickering taper candles are safe to use around kids, pets, furniture.
Our Taper Candle Style
Classical Style(ON/OFF Function)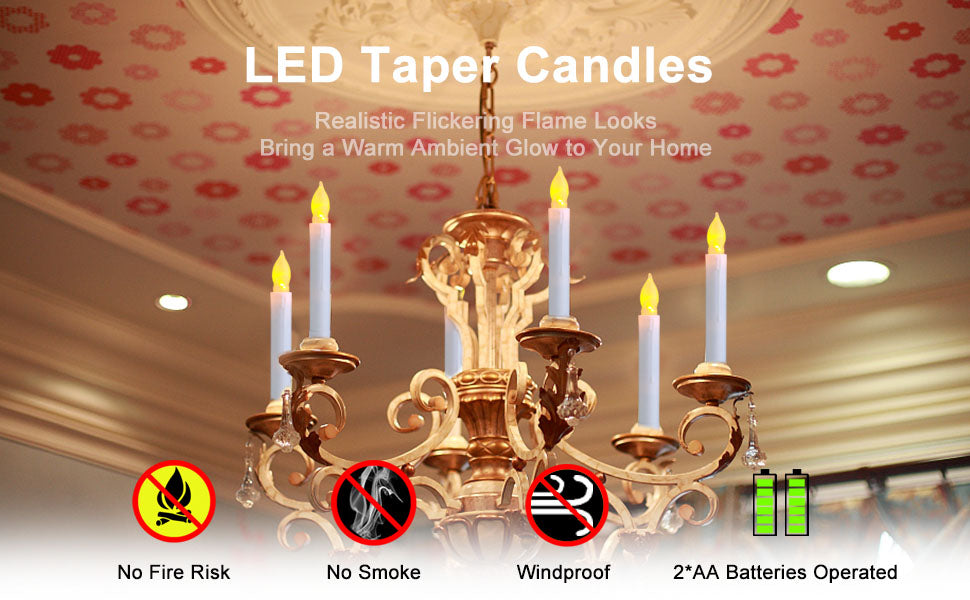 This Flameless Handheld Taper Candles with high quality and generous pack. Not only enjoy all the benefits of traditional candles, but also much safer than traditional candle. Absolutely no fire hazards or burning risks, safe for families with pets or young children. These flickering flameless taper candles are good ideal for decorations. It can be widely applied to Thanksgiving, Halloween, Christmas, Church Service, Garden Wedding, Birthday Party, Themed party celebration. You can hang outs these warm flickering candles with your friends! Isn't this a great experience?

However, it should be noted that the taper candle does not have the function of timing and remote control, but the switch operation is easy to understand.
Usage method: SimplyTwisting off the top led bulb, then install 2 "AA "batteries with the Positive Electrode UP, and tighten the top cap until the light on. Now you don't have to worry about their problems of poor contact and overheating of batteries.


Floating taper candle
Our flameless taper candle can work great for Harry Potter theme party, Christmas Eve candlelight, church service, table, window sill decorations. You can hang these battery operated taper candles with fishing wire on the ceiling (or chandelier) to create "floating candles" effect for a themed party.
With remote control function 
1. Remote with timer
How to use install the candle?

Twist the candle bottom,put the three AAA battery into the body of the candle and cover the candle bottom--the negative electrode is down and positive electrode is up.
Twist the bottom until it lights up.
Our bright warm white light and flickering flame look like the real white taper candle, create the romantic and charming atmosphere. No flame, no dripping wax, smokeless and unscented, you can enjoy yourself into the candlelight. The taper candle has a timing function, it means that work for 4H or 6H and after 20H or 18H of rest, they will automatically turn on and you needn't control them. The LED battery candles have four candlelight modes, flicker flame, slow flick, fast flick and lighting adjustment function. You can choose which atmosphere do you want by the remote control and multiple modes can be selected multiple times through the bottom switch on and off.

How to use the remote?

Press the "ON" or "OFF" button,turn on or off the candles within 3-meter distance.
Press the "FL""SL"or "FLF"button, set its flickering mode of the light.
Press the "+"or "-"button,adjust its brightness of the light.
Press the "4H" or "6H"button, then into 4 hour or 6 hour timer function.
2. Remote without timer
 Realistic warm yellow flame flicks softly and gently. Like a real wax candle. A perfect addition to your home decoration, festival celebration and church service without the smoke of traditional candles. Also as great decoration for the Thanksgiving or Christmas. We will provide a remote control that can control the switch (only with switch function, no timing function). We will also provide the same number of rubber sleeves, they can help candles fit all holders. You can put the flickering led taper candles anywhere you want.
Notice:
Slightly screw the bulb as long as the candle is on (Tightly screwing may cause damage to the candles and batteries).
Please do not use these in high-temperature or high-humidity environments.
Please remove the batteries when not use the candles for a long time.
Kindly protect our environment with disused battery recycling when you use these LED Candles.
Our window taper candles have the unique cutting technology, it is designed for the LED bulb, which exudes a diamond-like light under the flickering warm white light. They also have convenient timer and remote, 6 hours timer, cycling every 24 hours. The 7 Keys remote allow you adjust Light Brightness Levels and Flicker Speed. Increase or Decrease the Brightness via "+" or "-" keys; Control the battery candles flicker frequency via "SL" or "FL" keys.
Each electric window candle is equipped with a clip and suction cup.
CLIP: Clip the candles on the Christmas Tree or Potted plant.
SUCTION CUP: It can be adsorbed on a smooth surface such as glass or wall, easy for used as window candles.
How to use clip and suction cup?
1. Suction Cups
Wipe away the dust of the window first, then add some water to the suction cup for sticking firmly.

2. Clips
Tilting the clips at a slight angle is helpful for installation. With clips, it can be easily clip on a Christmas Tree, other Potted Plants or on an Iron Shelf.
 Effect display