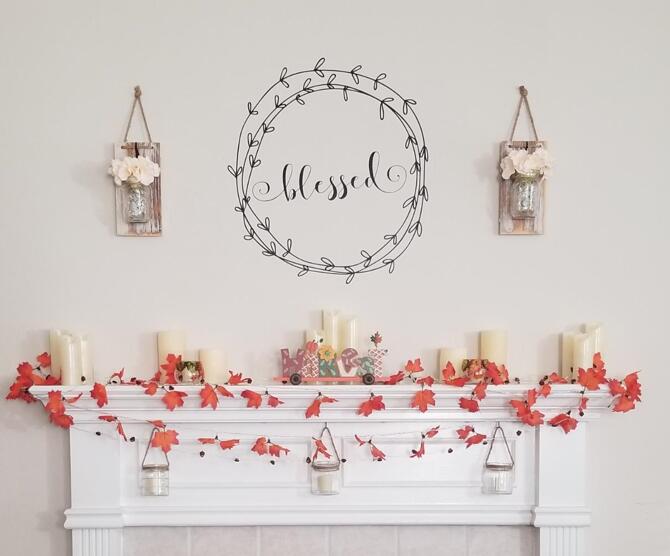 We are going to usher in a pleasant autumn. It's time to wave goodbye to the joyful and hot summer time and welcome the comfortable autumn with fallen leaves. Although the weather is getting colder, it does not mean that there is nothing to do. After all, autumn may be the most popular season of the year. In addition to buying clothes for yourself, don't forget that you can also use some autumn accessories (such as maple leaves, pumpkins and lanterns) to make a seasonal renovation of your home to add warm colors to your home.
Autumn Maple Leaves
🍂
Bring the autumn maple leaves into your home. Add an autumn feel to your fireplace. Using led fairy lights and matching with LED candles, the luminous LEDs are intertwined to bring a comfortable feeling. It is very suitable for your home decoration, and it can also appear on your Christmas tree together with Christmas fairy lights! Pairing with pumpkin lanterns is also suitable for your Halloween decorations.
Perfect Combination of LED Candles and Pumpkins
⁠
🎃
⁠
All kinds of pumpkin lanterns are indispensable decorations in autumn. You can choose the traditional way to carve the pumpkin to your liking. If you don't want to carve yourself, then the pumpkin itself is also a lovely home decoration. Choosing reusable pumpkin lanterns is also a good choice. (Made of plastic, etc.) Simply use them as a decoration for your dining table or put them in any corner of your home. Or use warm LED tea lights to light up from the inside, no matter when, they will emit a comfortable light. Perfect table centerpiece decoration.