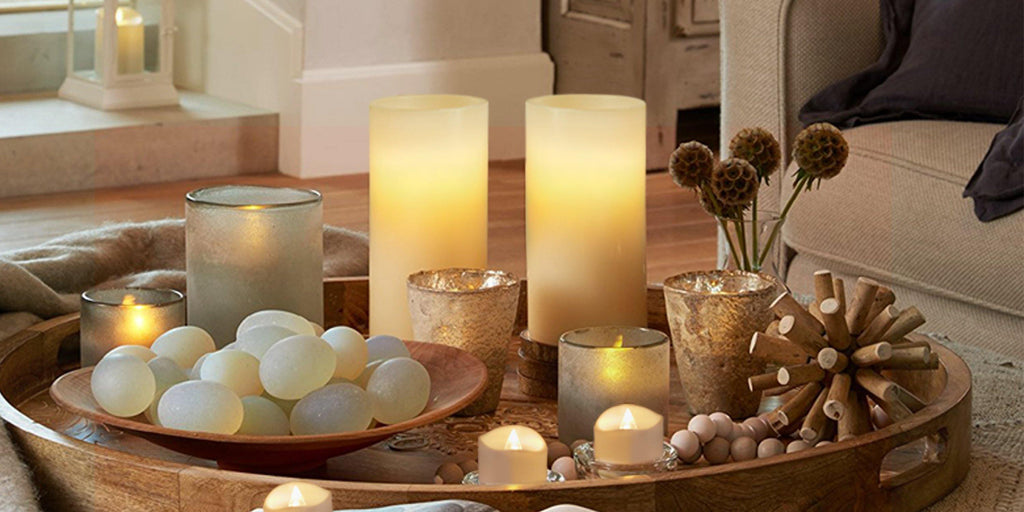 As Christmas is over, it's time to prepare your home for the new year and add some warm decorations to the room.
Create your winter warmth
In the cold winter, let your room warm up!

Our
LED
flameless candles
 can add a warm atmosphere for your family. You can choose different battery operates pillar candles according to your home decoration style and personal preferences. If you like simple, classic style, you can choose
LED taper candles
. Our
taper candles
are just like the traditional candles, realistic flame flickers softly and gently, creating a smoothing and relaxing environment. You can also prepare your favorite candlestick to match it, that will look better. If you prefer bright modern style, you can choose Our
pillar candles

. Real wax material and flickering effect make the flameless pillars so realistic. An amber yellow glow is given out from these led pillar candles, which is perfect for the creation of atmosphere for Home Decor. You can set them into your favorite wall sconces, lanterns, chandelier pumpkin, mantle over the fireplace or candle holder or mix with other decorations and table settings. They can be also used as a mood light in bathroom or on balcony. 
Decorate the style you like
 Do you take a lot of photos every time you go out with your friends and family? Print out the photos together to make a memory wall of your own. You can build your wall of memories with simple tools and our fairy lights. All you need to do is fix our fairy lights on the wall with wooden nails (or any props you can use to fix them), and then you can use clear clips to hang your photos or postcards on the fairy light wall you set up according to your preference. This not only fills part of the blank in the home, but also adds more color to the home. 
After Christmas Day, in addition to some of the decorations that can be kept, are you looking for ways to fill it?I think we can provide some ideas for you. It can be the perfect lantern candles. Warm candlelight with various lantern shapes, I think this is an ideal choice for cold winters. Choose a style and size, which can complement each other for more diversified layouts. OR put them inside the lanterns,or place as a table setting, simply set a mood for your family dinner. The battery operated candles with timer and flickering flame, you even can set a 6-hour timer when night falls, enjoy the lights and no need to turn off manually,it will off automatically and come again the next day.  
Illuminate your your workspace
When working from home, do you feel that something is missing? Don't feel energetic enough?
Then let's decorate your work area together and brighten it up. I think a bright environment will make your work more efficient. Warm light will not be too dazzling, not only can provide you with enough light, it will not affect your concentration. More you create a warm working environment.