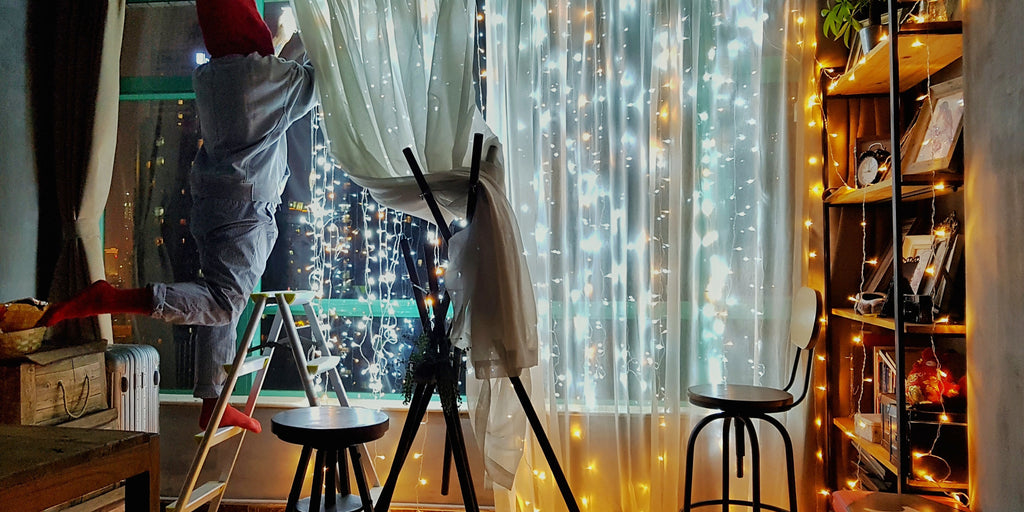 Start off the year in style by personalising your home with Indoor and outdoor Lights. They'll provided the needed warm and cosy feeling during these colder winter months.
Revamp Your Bedroom for January
After removing all the Christmas decorations, is the house much a little bare? Let's take a look at the comfortable LED indoor lights and decorative fairy lights. Light up your home this January and create a warm feeling for your home.
Personalising your bedroom is so important to make you appreciate the time you spend in it. The special cold white light is brighter than the warm light. You can be positioned wherever you like, and easily bent and molded in a potted plant, bed, display case, wall, ceiling, Christmas wreath, window and outdoor, draping them from either end of their bedposts. DIY into various shapes. Fairy lights battery operated include the transparent battery box with hook that is easy to hide in your design.

 👉Hanging cool white fairy light in bedroom
Don't worry about using led candles in the bedroom is unsafe! Our battery operated fairy lights with timer and remote are super safe since they stay cool to the touch. High-quality silver-plated copper lights are 5v. More energy-efficient than ordinary copper wire. they won't blow a fuse even in older buildings. These string lights are also waterproof, so you don't need to worry about a short circuit if you spill a drink. To avoid forgetting to turn off the fairy lights. This firefly lights indoor will keep 6 hours On and 18 hours Off automatically every 24hrs once TIMER activated. Enabling your lights to automatically turn on at your preferred time each evening. 
👉Warm and comfortable fairy light with warm colors 
The inviting flicker of candle light is guaranteed to look good in any room. Fairy lights with timer warm white match your new cosy lighting perfectly. You can also wrap them around the bed frame. Warm color can create a warm and comfortable atmosphere for your bedroom. 
What's more, you can use them to decorate your bay window, Pure white white gauze with warm lights, I think this is very romantic. All dreams will be romantic and sweet.
Cosy Living Room Space with Indoor Candles
Your living room and bedroom are the heart of the house, so give them some extra attention. Our led fairy lights battery operated are a great choice.They can be hung on the edges of photo frames or mirrors to illuminate them with soft light, or they can be used as decorations without turning on the power during the day. If you have children at home, you can also create a dream house for the children. In the free time, playing with the children in the cabin is also a good parent-child interaction, giving yourself a relaxing space.
It's also nice to add a few natural elements such as flowers, cactus, pinecones and so on. Create a lovely atmosphere for your living room space, but remember to keep them fresh.
Our led flameless candles battery operated are another great choice. It can be the perfect lantern candles. Warm candlelight with various lantern shapes, I think this is an ideal choice for cold winters. Choose a style and size, which can complement each other for more diversified layouts. OR put them inside the lanterns,or place as a table setting, simply set a mood for your family dinner. The battery operated candles with timer and flickering flame, you even can set a 6-hour timer when night falls, enjoy the lights and no need to turn off manually,it will off automatically and come again the next day.  
👍You will also like
Fairy Lights, 4 Music Sync Function Twinkle with Any Voice, with USB Operated