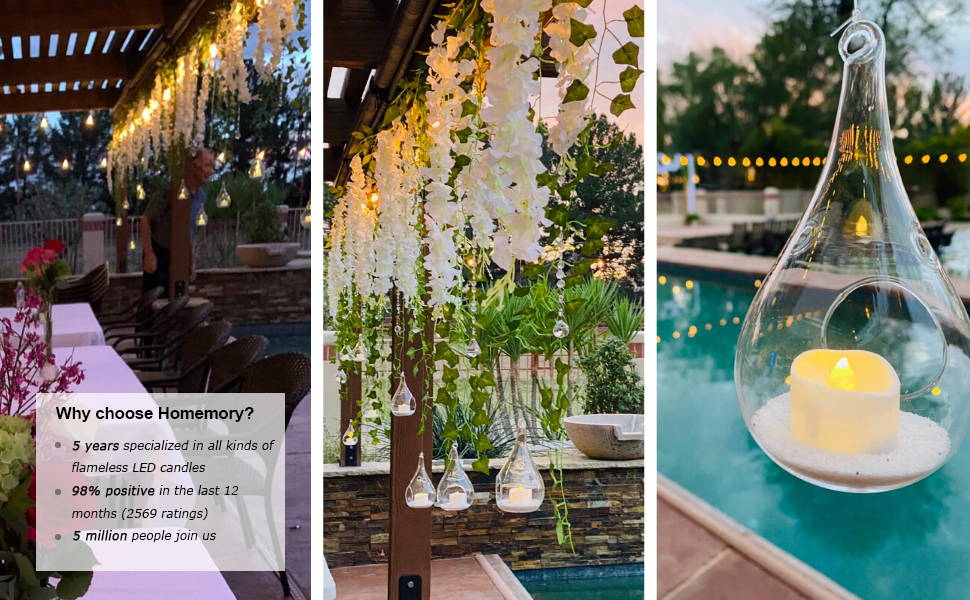 Have you ever thought about how to decorate your home?
Do you prepare candles at home to create a warm and pleasant atmosphere?
Our LED tea light can create a warm and romantic atmosphere to your home, parties, birthday, holidays, wedding, or other occasions. And it can avoid the trouble of cleaning wax drops. We provide a series of products for you to choose. You can decorate according to your own preference. I believe there will be one you like.
LED Tea Lights Details
Homemory wireless flameless flickering tealight candles are produced by our factory and tested strictly before leaving the factory. These led tealight candle have normal function(ON/OFF function), timer (6hrs on and 18hrs off) and remote function. They can meet different requirement, wedding, seasonal & festival celebration and home decoration.
Classical Style(ON/OFF Function)
These flameless wave open LED tea lights with ON/OFF switch for easy & convenient operation. The electronic tea light comes with batteries which have 100+ hours of light-time,  it can ensure the tea candles work last throughout your wedding or party. No Fire Hazards, No Burning Risks, No Smoke, No Melting Wax. Feel free to enjoy the romantic with your family and friends.

How to control lights and change the battery?
Control the lights: Simply switch the on/off button at the bottom to control it.

Change the battery: You just need to open the bottom cover and you can easily replace the battery. (Note: CR2032 battery can be used)



The white flickering tea light with timer, you can simply turn the flameless tealights on and they will light up for 6 hours, then turn off for 18 hours, cycling every 24 hours. Save the trouble to turn the tea candles on and off every day! There is no need to turn it off deliberately, and there is no need to worry about forgetting to turn it off, causing the power to run out. It can save you a lot of trouble.
 Handy Hands-off Operation: The flicker flameless tealights with the remote, you can save trouble to turn all the tea lights on/off manually, climbing high places also become unnecessary. Use the remote control function to make surprises would be an interesting idea. As long as you keep your candle and the remote control with sufficient power, you can use it with peace of mind.
Ideal for Various Decor
Our electric tea lights gives a beautiful, warm slightly flickering light that's very realistic. Great for festival decoration, add fun to your festival. Ideal for your wedding, birthday, Christmas party and so on. The tealight candles battery operated are ideal for decorations. It can be used as mood lights, night lights with votive holders or other holders like glass cups. You can put the electric tea lights on the table or the other places in restaurants, home and garden weddings, parties, festival decorations. No flames, No smoke, No melted wax. Safe to use.

You can solve all the problems below:

Real candle can't last long;
Always have the safety concern while leaving them unattended;
Have to deal with the mess of the melted down wax;
Your cute curious kids or pets knocking them over;
Finished product display