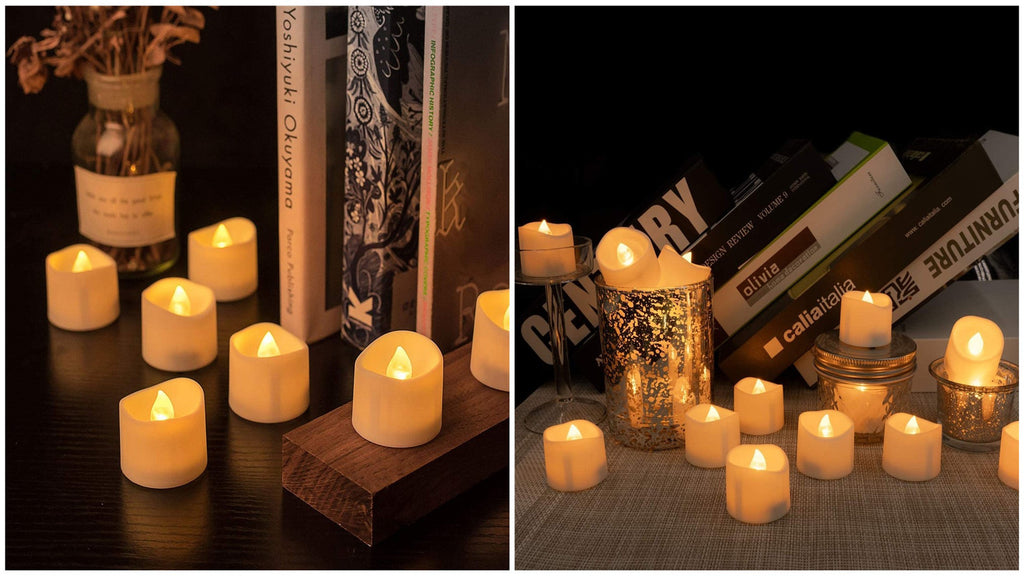 At the beginning of the new year, many of us began to consider decorating the house and making some changes to the decoration. The HOME is your resting place, you can play freely, really make your own room and be creative. And because of the current situation, we currently spend more time at home, so this is a great opportunity to make some warm and interesting decorations!
👏Warming Living Room
A lot of our time is spent in the living room, so it is important to make it cute and comfortable for the whole family to enjoy! Add some small decorations to your living room and make your living room a relaxing place for your family.
Our LED tealight candles battery operated with timer are very suitable for living room use, because you can place them where you want, without being restricted by plugs and sockets, and they also have a convenient timer function. You can set them to open automatically at the same time every night and send out a glowing greeting as soon as you step on the door. You can also put them in some small bottles to add a decorative look and bring a warm and romantic atmosphere to your living room. You can even put flowers around the lamp to add a charming atmosphere to your living room.
👉Cosy Your Bedroom 
After removing all the Festive decorations, is the house much a little bare? Let's take a look at the comfortable LED indoor lights and decorative fairy lights. Light up your home this January and create a warm feeling for your home.
Personalising your bedroom is so important to make you appreciate the time you spend in it. The special cold white light is brighter than the warm light. You can be positioned wherever you like, and easily bent and molded in a potted plant, bed, display case, wall, ceiling, Christmas wreath, window and outdoor, draping them from either end of their bedposts. DIY into different shapes. Fairy lights battery operated include the transparent battery box with hook that is easy to hide in your design.
👍Decor Your Garden 
As the weather gets warmer and warmer, more and more people are hosting social gatherings for their friends/family. Of course, social distancing measures still apply and must be considered! So, how do you hold a large gathering without breaking the rules? We have some important tips on how to hold a safe and perfect garden party!
Our outdoor waterproof led pillar candles and LED Fairy Lights are suitable for your garden party. You can hang the fairy lights high above your space so that it can still illuminate the garden in the evening and emit a subtle light when it is dark, so that you can entertain guests for a long time. Will not end the party because of darkness. You also can use the outdoor LED pillar candles lighting for a more warm and relaxing feeling.

Tips: Prepare some drinks and foods to your family and friends. You can even place an ice bucket next to it to keep the drink cool and let the family and friends take it by themselves. Allow your guests to refill glasses without having to enter the kitchen.
More decoration tips