Our LED Votive Candles  just like traditional burning candles in ivory color, the realistic flame flickers softly and gently, creating a soothing and relaxing ambiance. It have normal one (on/off function), with timer (6hrs on and 18hrs off) and remote function. And the light color of our LED Candles are warm white (much like sunshine) and warm yellow (much like candle).The electric led votive candles are ideal for homes, kids room, restaurants, dinner table hotels, bars decor; the votive tea lights is safe for halloween outdoor pumpkin jack or lantern light, birthdays, anniversaries, Christmas, memorial decorations.
Classical Style(ON/OFF Function)
These high quality flameless votive candles, tea lights replicate the ivory color look of real candles, with wavy melting edges. And the romantic warm yellow light and flashing flame effects provide you with a realistic candlelight environment, creating a warm and romantic atmosphere. They're a little bigger than other tea lights. These electric led votive candles are ideal for homes, kids room, restaurants, dinner table hotels, bars decor; You can put them in glass bottles as hanging lanterns, or you can put them on the table as table decorations.

How to use?
This votive candle has no function of remote control and timing, they control the switch mainly through the buttons at the bottom. If you need to replace the battery, You just need to open the bottom cover and you can easily replace the battery. Our flameless votive candles powered by batteries, have no smoke, carbon dioxide emissions and no hot and dirty wax needs to be processed. It can avoid the danger of burning, and it is safe for families with pets, the elderly, and children.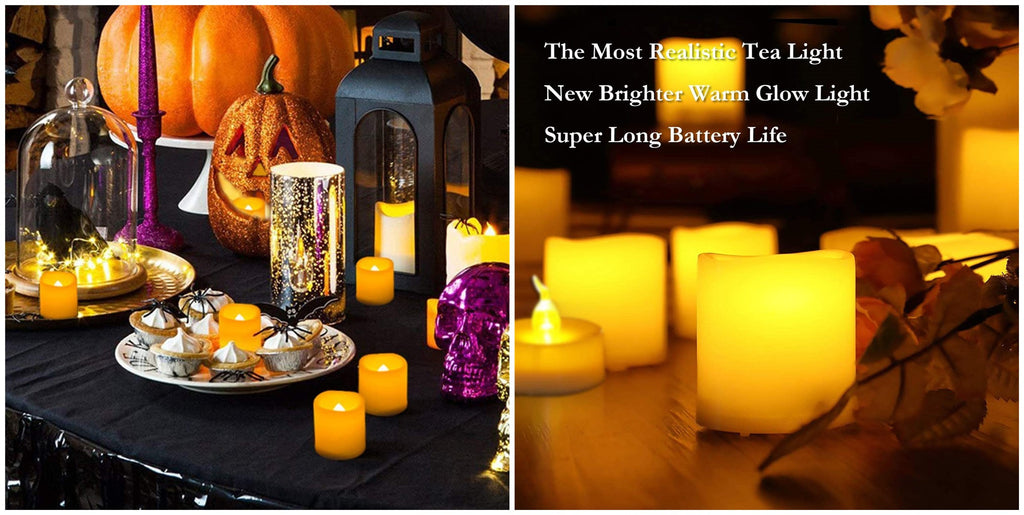 This LED votive candle, we really restore the candle burning state, and use top notch high end wax like plastic to replicate the feel and appearance of real wax candles.
Remote and timer function: It has 6 key remote control allows you easily operate from the comfort of your sofa or bed or set timer on your flameless candles per 4h or 8h, while you can even time them to automatically turn on or off, and cycling 24 hours; with this super convenient remote you can enjoy the relaxation of your candles without worries. Each electric candle measures at 1.5 x 1.7 inches, making it a perfect fit for most candle holders.
These realistic dripping tea lights you can have ambient evenings with peace of mind; no worries about fire hazards, smoke, messy dripping wax or stained tablecloth. these kid friendly flickering flameless candles are a great choice for any family with children or pets who want to make sure that their little ones will stay safe and sound. Ideal for parties, wedding, birthday, home decor, restaurants, and table-top decorations, etc.
Timer Votive Candle
Our timer batteries operated votive candles can not only be controlled by the button at the bottom, but also has the function of timing. Turn the electric tea lights on, it will stay on for 6 hours then turn off for 18hours, It will then automatically turn on at the SAME TIME the next day. (Tips: The tea lights do not include remote controls.)
At the same time, we also pre-installed with high-quality button battery CR2450, compared with the common CR2032, the capacity and service life are upgraded by 2 times. About 30-days battery life bring higher cost performance!  Ideal for Party, Pumpkin Lantern, Morrocan lamps, Mason Jars, bring cheery and nice on a dark stormy night. Easy to use and just the right warm glow with a nice and soft flicker.(We have warm white light and amber yellow light for you to choose from.)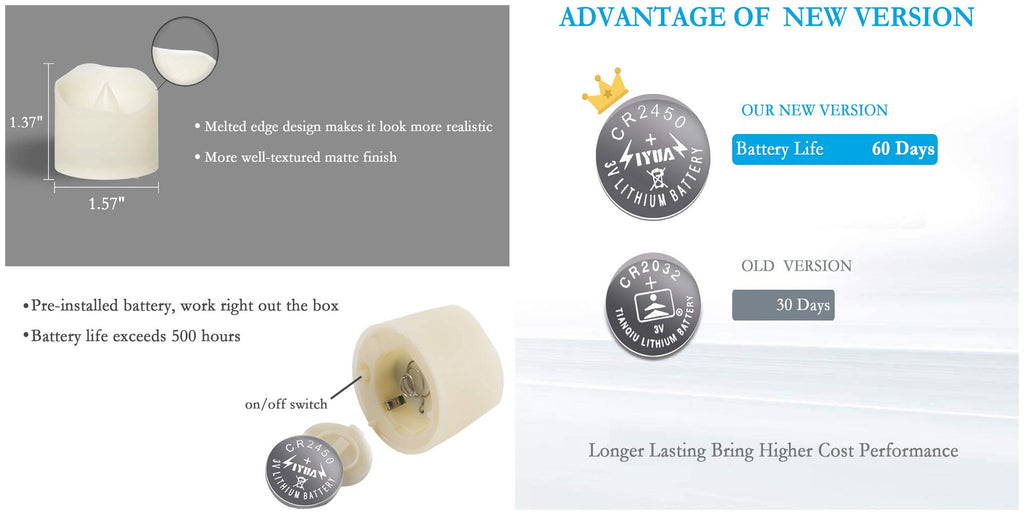 Remote Control Votive Candle
Remote without timer
Our flameless votive candles pre-installed CR2032 battery, it can provide more than 150 hours of lighting time, equivalent to 15 times that of traditional burning candles, can ensure that flameless candles continue to work throughout the wedding or party; when the battery is exhausted, you can replace the battery from the bottom and continue to use it. You also can easily open and close each flameless votive candle through the switch at the bottom.
This votive candles with convenient remote control function,  remove the insulating film in the remote control,turn on the switch at bottom of candles,then you can control them; With the remote feature, you can save trouble to turn all the tea lights on off manually, climbing high places also become unnecessary.
But it should be noted that this candle has no timing function.
Remote with timer
These electric votive candles come with a cr2450 battery installed; And it have the 8 keys remote control comes with a battery installed and a plastic piece to stop the battery from draining before use; 4 and 8 hours timer helps save the batteries and allows you to have the electric votive candles light every night at the same time; you can also adjust the brightness, set steady glow or gentle flicker mode by using the remote.

 
Our flameless flickering votive candles are perfect for wedding, party, anniversary, marriage proposal, outdoor candlelight banquets, hotels, bars, church and home decoration; they're also suitable for festival decorations, like halloween, christmas, Valentine's Day. No more dripping wax, no more smoke and no more scent.
Tips: Please note that when you just turn the candles off by the remote, the batteries will still run slightly, since they need to stay active, enabling to receive signals from the remote; therefore, if you are not using these battery votives for a long time, please turn them off manually at the bottom.
Effect display